Sophia Schönherr-Hellec is a post-doctoral researcher at the Necker-Enfants Malades Institute. She received her PhD in Microbiology from Paris Descartes University, France, in 2017. During her PhD she performed a comparative analysis of the characteristics of clinical strains of Clostiridum neonatale and Clostridium butyricum isolated from premature neonates with or without necrotizing enterocloitis and reported for the first time a specific bacterial signature potentially linked with this intestinal disease. Sophia joined the Neisseria meningitidis team in 2018 and studies the interaction between N. meningitidis and human endothelial cells under the supervision of Mathieu Coureuil.
---
Last News of the Lab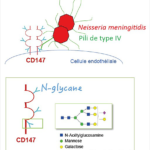 Receptor Recognition by Meningococcal Type IV Pili Relies on a Specific Complex N-glycan. Leguennec et al Proc Natl Acad Sci ...
Lire La Suite…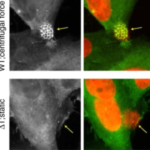 Sialic Acid Mediated Mechanical Activation of β 2 Adrenergic Receptors by Bacterial Pili. Virion et al, Nat Commun, 10 (1), 4752 2019 ...
Lire La Suite…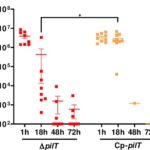 Type IV pilus retraction enables sustained bacteremia and plays a key role in the outcome of meningococcal sepsis in a ...
Lire La Suite…
---
Last Publications
Search PubMed