Héloïse Rytter is a PhD student at the Necker-Enfants Malades Institute, working in the group Francisella tularensis & Staphylococcus aureus since december 2018 under the supervision of Alain Charbit. She has got a master's degree from Sorbonne University (Pasteur courses). She studies the key role of metabolism in virulence of Francisella tularensis. The main objective of her project is to understand the molecular mechanisms of dissemination of Francisella tularensis.
---
Last News of the Lab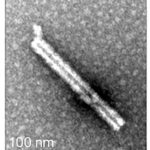 Critical Role of a Sheath Phosphorylation Site On the Assembly and Function of an Atypical Type VI Secretion System. Ziveri ...
Lire La Suite…