Mathieu Coureuil is a senior scientist at the Necker-Enfants Malades Institute (« Chargé de Recherche », Inserm). He received his Ph.D. in Cell Biology from University Paris-Sud, France, in 2006. Since then, he studies the interaction between N. meningitidis and human endothelial cells. He demonstrated the role of the meningococcus induced endothelial cell signaling during invasion of human vessels.  His current discovery-driven research focuses on determining the molecular mechanisms involved in the endothelial cell colonization. Besides, Mathieu Coureuil developed a new thematic studying S. aureus in the context of chronic infections.
Currently, MC is interested in invasive meningococcal infections, from portal of entry to sepsis, as well as chronic S. aureus infections.
https://orcid.org/0000-0001-7655-9685
ResearchGate

---
Last News of the Lab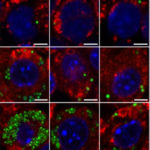 Le 03/08/2021 .The pentose phosphate pathway constitutes a major metabolic hub in pathogenic FrancisellaHéloise Rytter et al PLOS Pathogens 2021. Metabolic pathways are now considered as intrinsic virulence attributes of pathogenic bacteria and thus represent potential targets for antibacterial strategies. Here we focused on the role of the pentose phosphate pathway (PPP) and its connections ...
Lire La Suite…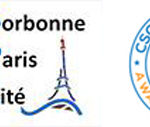 Le 02/08/2021 .Audrey LAURENT and Clémence MOUVILLE have been awarded a PhD Track Grant from BioSPC. Xiali FU has been awarded a PhD Track Grant from China Scholarship Council. We are all very proud and very excited about the science to come. Audrey will work on Neisseria meningitidis and host-cell membrane. Clémence will work on ...
Lire La Suite…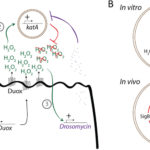 Le 23/06/2021 .Reactive Oxygen Species-Dependent Innate Immune Mechanisms Control Methicillin-Resistant Staphylococcus aureus Virulence in the Drosophila Larval ModelElodie Ramond et al mBIO 2021 MRSA Virulence in a new Drosophila Larval ModelAntibiotic-resistant Staphylococcus aureus strains constitute a major public health concern worldwide and are responsible for both health care- and community-associated infections. Here, we establish a ...
Lire La Suite…
Team Members (Neisseria meningitidis)

Team Members (Staphylococcus aureus)

---
Grants and Funding
| Call, funding agency | Project's title | Name of the scientific coordinator | Start - End |
| --- | --- | --- | --- |
| Paris Emergences | Molecular basis of signaling induced by Neisseria meningitidis on epithelial and endothelial cell | Mathieu Coureuil | 2011-2015 |
| ANR | Molecular basis of signaling induced by Neisseria meningitidis on epithelial and endothelial cell | Mathieu Coureuil | 2011-2014 |
| ANR | Mechanisms of colonization and dissemination of a bacterial pathogen in a human population, the example of Neisseria meningitidis | Mathieu Coureuil | 2015-2020 |
| Vaincre la mucoviscidose | Staphylococcus aureus infection in cystic fibrosis | Mathieu Coureuil | 2018-2019 |
| Emergence program, Université de Paris | Staphylococcus aureus infection in cystic fibrosis | Mathieu Coureuil | 2019-2020 |
| ANR | Mechanical activation, dependent on carbohydrate, of the ß2-adrenergic rfeceptor | Stefano Marullo | 2020-2023 |
| Emergence program, Université de Paris | Staphylococcus aureus infection in cystic fibrosis - Follow up | Mathieu Coureuil | 2021-2022 |
---
Last 25 Publications
Search PubMed